[et_pb_section bb_built="1″][et_pb_row][et_pb_column type="4_4″][et_pb_text]
One of the ways Hitler took control of German hearts and minds is that he "confiscated" children, who were taken to special institutions where they were trained (brainwashed) to become good Germans. The parents had no say in it, and little contact with their children once they were removed from the warm, friendly home environment.
Here in the USA, where they are studiously following the Nazi domination plan, things are happening that make it clear the Nazi control method is attractive to some people in charge.
Americans are not being told what's happening, of course. They just get fed mush and propaganda. But if you want to really know what's happening here, read the British press!
Here's an article from The Daily Mail (March 28, 2019) which reported a horrifying incident that took place recently in Arizona. This is the headline:
Shocking Video Shows Arizona Police Officers Forcing Their Way Into A Home To Remove An Unvaccinated Toddler Who Had A 105-Degree Fever After A Doctor Reported His Parents To Authorities.
In the video, from the family security system camera, cops from Chandler Police Department are seen kicking down the door SWAT-style and forcing entry.
The officers were called to a home to check on a two-year-old boy with high fever.
A chiropractor who had seen the boy feared the unvaccinated child had meningitis and reported the parents when they didn't take him to hospital.
The child actually had an upper respiratory infection (a cold).
What's Wrong With This Scenario?
Only the chiropractor said the child had a fever of 105 degrees. He could be an incompetent idiot. What fool practitioner would send home a child when there is a suspicion of meningitis? He's lying, to cover his a**.

The cops took ALL the kids, not just the one who was physically sick.

The children were not sent back, forthwith, when the bunkum told by the chiropractor became obvious. The child's temperature had dropped to 100 by this time. And not many parents can afford over $2,000 for an ER visit.

This is not an event of child protection. It's an episode of officials kidnapping children, way beyond their authority and sticking to it, even when it's obvious they had committed a grave error.
Anyone with a brain will quickly realize this is about intimidating all parents who do not vaccinate their children. Such parents will become increasingly criminalized in years to come and face these Gestapo jackboot tactics, if they try to exercise their parental rights and judgment.

(a big deal was made out that the house was untidy. Therefore the parents were unfit. Therefore the cops were "protecting" the children).
As usual, according to MedicalKidnap.com, the heavy-handed authorities then try to invent reasons to justify taking away the children.
Four weeks later, the parents still don't know where their children are. When they showed up at a meeting with Department of Child Services, they were reportedly told that the agency "had to cancel the meeting."
Yet no charges have been against the parents.
Based on the numerous other stories published about Arizona DCS and foster care, these parents have legitimate reasons to be concerned about the welfare of their children.
Every 40 minutes a child in Arizona is removed from its parents by authorities. Many are never seen again.
Consider this headline: Is Arizona a Hub of Child Sex Trafficking? Why does Arizona Take the Highest Percentage of Children from their Homes? (see chart)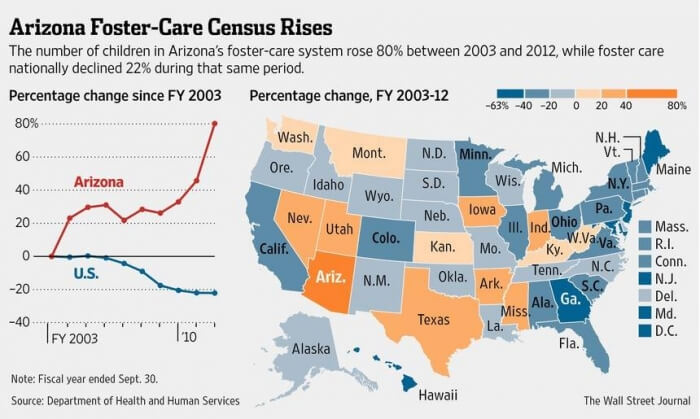 (a full link to that story below).
First Read Another Case, This Time From The UK:
By coincidence, I had read another case only a few days before, concerning a child abduction by the authorities in Britain. This is the most vicious story I have ever read, in all my years. Another scary headline:
My autistic child was kidnaped by social workers: Distraught mother claims family has spent £200,000 trying to free adult son from 'secure house where he is drugged and restrained'
She can only see him if he is accompanied by carers and she says her son is a 'prisoner'.
It's another case of social workers and psychologists far over-reaching their competence level, yet using their undeserved authority to punish, hurt and twist peoples' lives… BECAUSE THEY CAN.
In this story, police officers turned up on the doorstep of the family home with a council official to say that a secret court hearing had empowered the authorities to seize her son Martin. No appeal, no recourse. She has no idea what she is supposed to have done, as a mother.
'I could not believe it,' mother Sinead recalled wept. 'I called my husband Paul, who broke down in tears, and then I collapsed. Our son had been kidnapped by the state and we were powerless to do anything.'
What all this is about is that mother Sinead won a judicial review, putting the noses out of joint of the council workers who had tried to take over. So they hit back by grabbing her son and incarcerating him, abusing the law for their own vicious retribution.
They are, in effect, torturing the son to death, with the full knowledge of the mother. Autistic kids suffer terribly if their routine is broken. They simply cannot cope with shock and change, never mind being torn from a loving mother.
Realistically, Martin will probably never be released, because what he could tell will have the abusers (the social workers and psychologists) in jail for many, many years. They are not going to let that happen.
So they keep him prisoner. Officials bring down the veil of secrecy, so that these are difficult cases to investigate, with secret court sessions, social workers involved and swirling, serious allegations.
Since then, Martin's parents, in their early 60s – both with a lifetime of service to others on the public sector front line – have been almost bankrupted trying and failing to win their son's freedom.
They have spent long weeks fighting lonely, expensive battles in court against lawyers with unlimited public funding.
Worst of all, they say they have seen their son decline from being a cheerful soul into a drugged, desperate and despairing prisoner.
Sinead wants to fight by going public but the authorities have enforced draconian gagging orders that threaten her with prison and the seizure of assets if she talks. Why? What are they scared of? She went public anyway, after assurances that The Daily Mail would change all the names in this case and not even identify the council involved in the saga.
But the newspaper reporter who unearthed the case stated "I have seen notes from council officials confirming Martin has suffered emotional turmoil – 'reports constantly refer to him crying or being tearful,' said one internal email."
Reports by support staff refer to him frequently crying, 'shouting and screaming' and asking to return home. 'I want to go back to mummy and daddy's,' records one log in 2016.
Another two years later says Martin 'wants out' and to 'go home to mummy and daddy real soon'.
The same article, on the same day, reports yet another abduction case, where a Polish family fled Britain, after one autistic child was taken by the authorities. AGAIN the family were targeted after falling out with social services during a long struggle to have their son's condition recognized and for suitable education.

Isolated Cases? Far From It.
A sister paper, The Mail on Sunday, has revealed how hundreds of teenagers and adults have been torn from their families and held against their will for up to 18 years in secretive, secure hospitals and Assessment and Treatment Units (ATUs).
Further shocking reports have revealed that children were being locked in solitary confinement, fed through hatches like animals, abused and forcibly medicated in places costing the taxpayer up to £730,000 ($950,000) a year per patient.
Over the past four years alone, more than 40 people with autism or learning disabilities have died inside these "secure" units.
So my big question is: WHAT'S GOING ON HERE?
Violent, perverted and abusive officials from local authorities, all over the Western world, are using their powers and secrecy to oust parents as the proper carers and managers of their own children.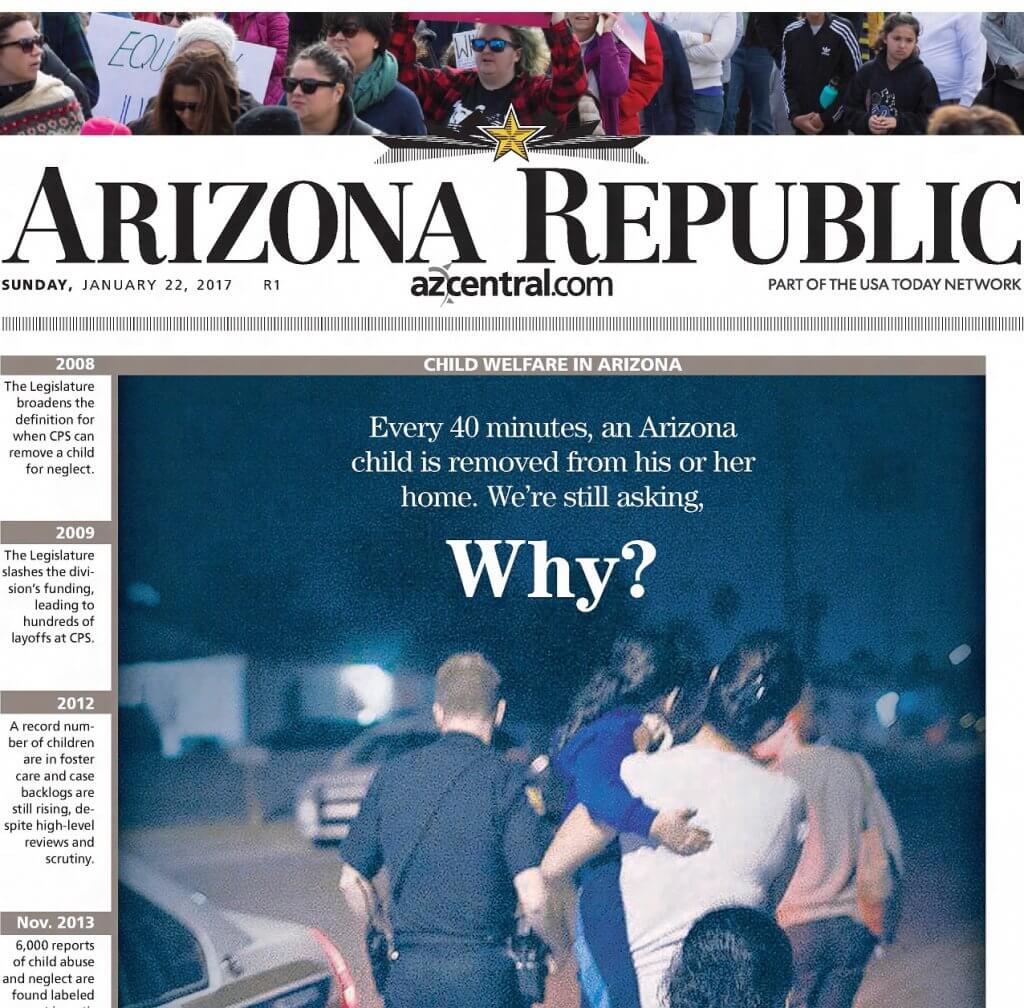 Are they trying to create parental boogeymen, just to claim their salaries and get a raise?
Or is to some much more serious threat to our civilized values?
One thing I know: when our children are used and abused, instead of being loved and cherished, the end is near.
The children are our future. Are we to let them be taken over, manipulated, tortured and twisted in their upbringing, just to satisfy some sick political dogma?
I want to know. Really.
Phew…
Prof.
If you want to read more about Arizona's child kidnapping and child prostitution, and pedophilia sanctioned officially, go here: https://medicalkidnap.com/2019/01/31/is-arizona-a-hub-of-child-sex-trafficking-why-does-arizona-take-the-highest-percentage-of-children-from-their-homes/
Daily Mail article: https://www.dailymail.co.uk/news/article-6818249/Mother-claims-autistic-son-kidnapped-social-workers.html
[/et_pb_text][/et_pb_column][/et_pb_row][/et_pb_section]